Maintenance and Repair
A creative approach to challenges.
You want your roof to last as long as possible. To accomplish this goal, your roof needs to be maintained on a regular basis regardless of its age. You can reduce roof lifecycle costs and avoid unexpected leaks and repair bills by utilizing Pinnacle Roofing Systems' planned preventive maintenance services. These services include regular maintenance that guards against premature failure due to:
Wear and tear from the elements
Deterioration
Damage caused by third parties on your roof.
Storm damage
Snow and ice damage
Ponding water
Poor workmanship
Material defects
Pinnacle offers you ongoing preventative maintenance programs that include having your roof inspected and maintained every six to 12 months as needed. We will inspect every component of your roofing system to correct any existing problems, leaks, or potential leaks and extend the life of your roof. We pay close attention to perimeter flashings; curbs; scuppers; pipes; penetration flashing; the condition of sheet metal – whether rusted, loose, or missing; and look at the roof surface for cracks, splits, ridges, open seams, or exposed felt – any of which can compromise the functionality and longevity of your roof. Getting started is easy! Just call us about our preventative maintenance programs, and take the headache and worry out of owning or maintaining a commercial, industrial, or institutional building.
Repairs
When your roof leaks, you want action. Pinnacle Roofing Systems is ready to repair your roof promptly and professionally. Not all leaking roofs need replacement. Often we can extend the life of a poorly performing roof by several years with our carefully applied repair work. You will have more time to plan for the investment that re-roofing represents when you take advantage of Pinnacle Roofing Systems expert roof repair technicians. No matter what type of roof you have – Built-up asphalt, EPDM rubber, or others – you will find that Pinnacle offers effective methods of long term-repair. Did you choose the wrong roofer? Don't worry. Pinnacle Roofing Systems specializes in repairing the workmanship errors of less qualified roofers. If your newer roof is experiencing problems, call us, we can help.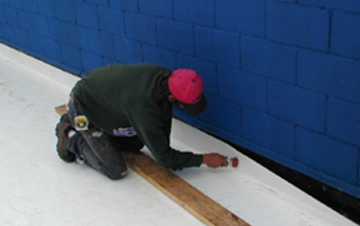 Pinnacle Roofing Systems complies with all OSHA safety standards.