Storm / Wind Restoration
Pinnacle Roofing had the roof watertight within 24 hours of the storm!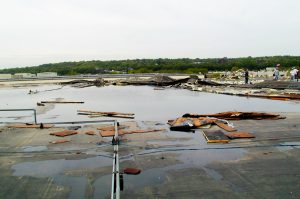 Our storm damage experts can repair and restore any property affected by:
Storm damage
Wind damage
Hail damage
Lightning damage
Roof & Siding Repair
Ice storm damage
Ice dams
Tornado damage
Downed tree and branch damage
Insurance Claim Experts
Don't let your insurance company dictate your settlement! Let us get you the replacements you are entitled to. We specialize in maximizing insurance claims for property Damage here in Minnesota. Some insurance companies count on errors made by property owners who submit claims without representation so they don't have to pay the full settlement. Insurance replacements can include an updated look for your home with new colors and styles.
Hail Damage Repair
PINNACLE ROOFING is a certified and licensed contractor with extensive experience in hail damage insurance claims and helping clients navigate the process of getting their roof, windows or siding repaired or full replacement covered by their insurance company. If there is damage
WE WILL FIND IT!
Fast response. 24/7 emergency response crews ready for any disaster situation.
Professional courteous service. Our certified techs are trained in a wide range of disaster recovery services.
Insurance claims experts. Insurance Companies have adjusters working for them to minimize your claim / Pinnacle Roofing Systems works for you to maximize it and make sure you get everything due under your policy!
Temporary & permanent repairs. We can protect your damaged property to prevent secondary damages until permanent repairs can be made. When disaster strikes, we deliver solutions.